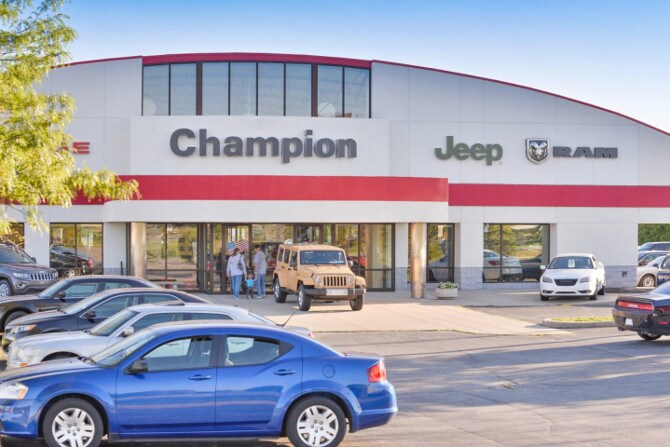 The Champion History:
Creating a successful automobile dealership is one of the greatest challenges one can imagine.  For the people involved, creating and maintaining a successful organization can be an extremely rewarding experience.  Champion Chrysler Jeep Dodge was founded in 2003 at it's present location.  My dream of becoming an entrepreneur in the car business which I love was finally a reality after 16 years in the industry.  I spent 16 years as a Chrysler sales executive traveling the US.  Being blessed with this opportunity I knew one thing, we would be second to no one and hence the name Champion surfaced for the store.  With our motto that every employee would perform like a Champion and every customer would be treated like a Champion is how we built our foundation for success.

In 2004 Champion earned the distinct honor from Chrysler by becoming one of only two 5-Star Elite Dealers in the state for achieving the highest level for customer satisfaction and became the number #1 sales volume leader in Indianapolis!  Both honors we have held now for 5 consecutive years!

Even during the most challenging of times, our dealership continues to grow by maintaining our core values of providing the best sales and service experience, supporting the community which has supported us through the years and by maintaining a friendly and positive, contagious attitude which allows our employees and our customers to feel the Champion Difference!

And remember, Nobody Beats a Champion!




Fernando Falcon
President / CEO
Champion Chrysler Jeep Dodge Ram GEM

What we offer:
At Champion Chrysler, Jeep and Dodge we offer the best in new Chrysler Jeep and Dodge cars, along with used cars, trucks, CUVs and SUVs in Indianapolis by top manufacturers.  Our sales staff guarantees you will find that new or used car you have been searching for.

For years, our financial staff at Champion Chrysler, Jeep and Dodge has offered for those seeking the best available Champion car loan or lease.  Our service doesn't stop there.  Indianapolis customers can come in and take advantage of our knowledgeable technicians and a fully stocked inventory of OEM Mopar parts and accessories.

You can reach Champion Chrysler, Jeep and Dodge anytime by calling us at 1-888-496-4384.

And remember, Nobody Beats a Champion!

Hear what our customers have to say:
"My service advisor Don was extremely polite, Professional, friendly and helpful."

"Steve in sales was great, thank you!"

"Everyone was great and made my purchase experience so easy!"

"Mike my service advisor took his time with me and explained everything in detail."

"You guys are awesome!  I love the energy in your place!"

"I wouldn't go any where else.  You guys always take good care of me."

"The MPI service report has made it so easy for me to decide what and when to do my service repairs."

"Everyone was great to me.  Add me to your growing list of satisfied customers!"

"We continue to recommend you very highly!"

"This was my second vehicle purchased from Ron.  It?s nice to come back and do business with someone you know."

"Rick your internet manager was terrific!  He got back to us immediately and took great care of us!"

"Tom was so easy to deal with.  We will send all of our friends to him."

"The vehicle was exactly what Anthony your e-bay manager said it would be.  I will definitely be back."

"Brittney in service is so sweet.  It?s nice to see a lady in the service drive lane!"

"You guy?s ?rock?!  You really went above and beyond and my parents will never buy or service any where else!"

"April was so helpful.  She really got me out of a tough situation.  Thank you so much."

"Ricky your tech really helped me out on my Viper.  He really knows his stuff.  Thanks Ricky!"

"Jon has to be your best employee!  He has cares about his customer."

"As soon as my little girl saw Marc our sales rep when we returned for our vehicle delivery he had the biggest smile.  He was so good to us."

"We had an issue at the BMV and Michelle took control an got it handled asap!  She?s good!"

"This was the best sales experience we have ever had.  You?re right, nobody beats a champion!"

"We?re from out of town and didn't know where to go.  Someone recommended you to us and We are so thankful to them and you.  You stayed late to get us back on the road and that really meant a lot to us.  Thank you Jeff and Team!"

"Rick P. in finance made me feel so comfortable.  He covered all my options in a way I could understand and I really appreciated that.  Thank You."

"I will keep the cookies coming because Rich is the best!"

"My wife really likes your service department.  You guys really treat her right.  Thanks for making it easy on me!"

"Communication is why I keep coming back.  I know where I stand with your team.  Thank you."

"You guys are fair and you always stand behind your products.  What else can I ask for!"

"Thank you so much for your commitment,patience,friendliness and kindness for helping my daughter-in-law get a much needed vehicle!  I pray god continues to shower you with blessings!"

More About Champion Chrysler Jeep Dodge?
Some drivers from Indianapolis know us as their neighbors. Others from Bloomington, Greenwood, Muncie and Lafayette, IN know us as the new Dodge, Chrysler, RAM and Jeep dealership in the area. Others - for the integrity of our used car collection, Dodge, Chrysler, RAM and Jeep parts, service and repairs. Still others - our straightforward auto financing. There are even those who know us in all of these different capacities.
That's our story! We hope to have the opportunity to learn yours soon.