5 Details On the 2019 Jeep Wrangler Pickup Truck | Indianapolis, IN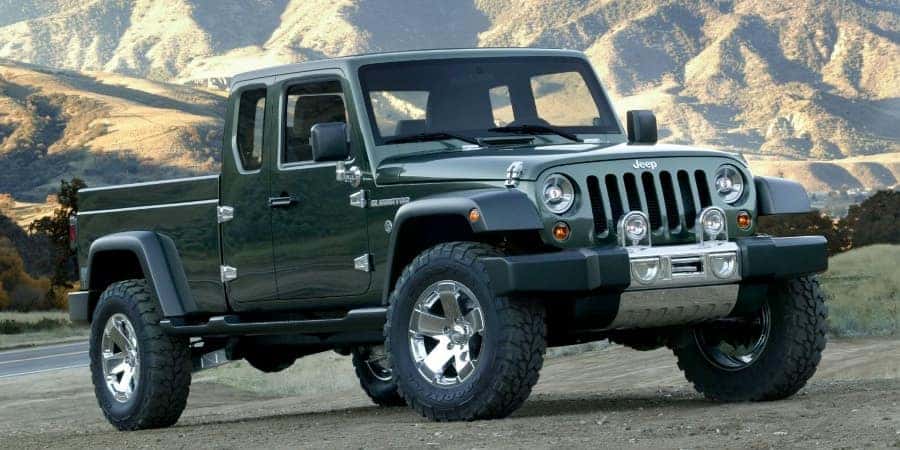 Ever since Jeep showed off the Jeep Gladiator pickup truck concept in 2005, fans have been clamoring for a Jeep pickup, and now the long wait is almost over. Anticipation has been ramping up, especially since new artist's renderings from JLWranglerForums.com have been released, depicting what the new pickup will most likely look like based on spy shots and early information. Here's what we know so far about the upcoming model.
The new "JT" Wrangler Pickup will ride on the next-gen "JL" Wrangler platform, and share its front end — bumpers, grille, fenders, headlights, hood, and windshield.
The bed will likely feature an angle-cut leading line to fit snugly against the body, as well as a character line stretching along its length.
Although all spy photos taken so far are of four-door models, recent insider information suggests a two-door will also be sold.
It will likely use a new 300 HP 2.0L turbocharged I4 aluminum "Hurricane" engine with direct injection, variable valve timing, and a twin-scroll engine as an optional drivetrain in place of the 285 HP 3.6L V6 Pentastar engine in the current Wrangler SUV.
Unfortunately, Jeep brand CEO Mike Manley revealed that production of the new Jeep Pickup has been pushed back to late 2019 in order to ensure that the roll-out of the next-generation of Jeep Wrangler SUV goes smoothly first. Both models will be built at the Toledo, OH plant.
Although we can't be sure of anything yet, we feel confident that this exciting news will prove itself out in the coming months. In the meanwhile, our Jeep dealership in Indianapolis boasts a wide variety of Wrangler models for sale right now, and our knowledgeable staff is always ready to answer questions about towing and off-roading. So head over to our inventory page now, then get in touch with our short contact form.