Buying a New vs Used vs Certified Pre-Owned Car In Indianapolis, IN
Should I buy new, used or certified pre-owned car?
When we buy a car, we want to get the most from it. We want quality, reliability, and value for money. Some drivers like to go safe, so they buy a new car, considering that only the new one can guarantee quality. But is it really so? If we have in mind that the new car loses a large percentage of its value during the first year of use, it is clear that such a car could not lose a lot on its quality, so that for less money we can get the car as new. A special category is certified pre-owned cars that have passed rigorous inspections and are covered by a warranty. So what is the best choice?
Whether you are buying a new, used or certified pre-owned, visit Champion CDJR in Indianapolis, compare Jeep Cherokee to Grand Cherokee or any other, and choose your favorite car at very competitive prices.
---
Pros & cons of buying a new car
Buying a new car is one of the most important financial decisions and certainly a great decision if we look at some of its advantages. However, do not forget that buying a new car may have some bad sides, as well.
Pros of Buying a New Car

For the purchase of a new car, you generally get a lower interest rate, which will greatly affect the total amount you will pay during the repayment period.
The new car comes with the manufacturer's warranty, and the costs you will have in the first few years, mostly related to regular maintenance costs.
The new car guarantees the latest generation technology that may not have existed in previous models.

Cons of Buying a New Car

The new car will lose on its value at almost the same moment when you buy it and in the next couple of years will continue to decrease its value. That's a couple of thousand dollars that you will irretrievably lose.
If you are buying a brand new model that came with a major change in some of the essential auto parts, such as the engine, there is still not enough information about reliability, safety or possible defects.
---
Pros & cons of buying a used car
If you decide to buy a used car, you will certainly not make a mistake in terms of its positive side. Of course, buying a used car also brings some risks.
Pros of Buying a Used Car

For less money, you can get an excellent car that has all the qualities of a new one.
Insurance costs are lower when you are buying a used one, given its lower value than the new car.
There is precise information available on reliability or frequent defects of used cars, so you will know exactly what you are buying.

Cons of Buying a Used Car

The interest rate is higher than buying a new car.
There is always a risk that the used car has some hidden defects, and the repair will cost you a lot.
There are no warranties if you are buying from a private party.
---
Pros & cons of buying certified pre-owned
Certified pre-owned cars are the most reliable used vehicles on the market. There are several reasons why you should buy CPO, but in addition to the benefits of CPO vehicles, there are certain disadvantages.
Pros of Buying Certified Pre-Owned

Lifetime powertrain warranty on all certified pre-owned vehicles.
CPO cars have passed a multipoint vehicle inspection that guarantees quality and reliability.
They come with a vehicle history report that provides information about mileage, maintenance, and repairs.

Cons of Buying Certified Pre-Owned

The multipoint vehicle inspection can be done by the same experts who work with the manufacturer, which can lead to a conflict of interest.
CPO vehicles are generally much more expensive than other used vehicles due to service costs and warranties.
---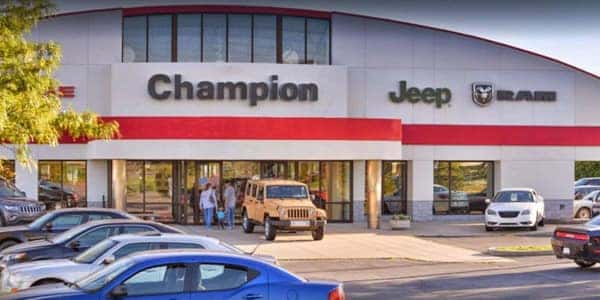 If you want to buy a car from a reliable dealer, then visit Champion CDJR in Indianapolis. Great choice of vehicles, excellent shopping conditions, and many satisfied users speak for us and make us proud. Our dedicated staff is at your disposal for all types of services, so that your shopping is as pleasant and efficient as possible. Visit Champion CDJR and see for yourself the superior service we provide.