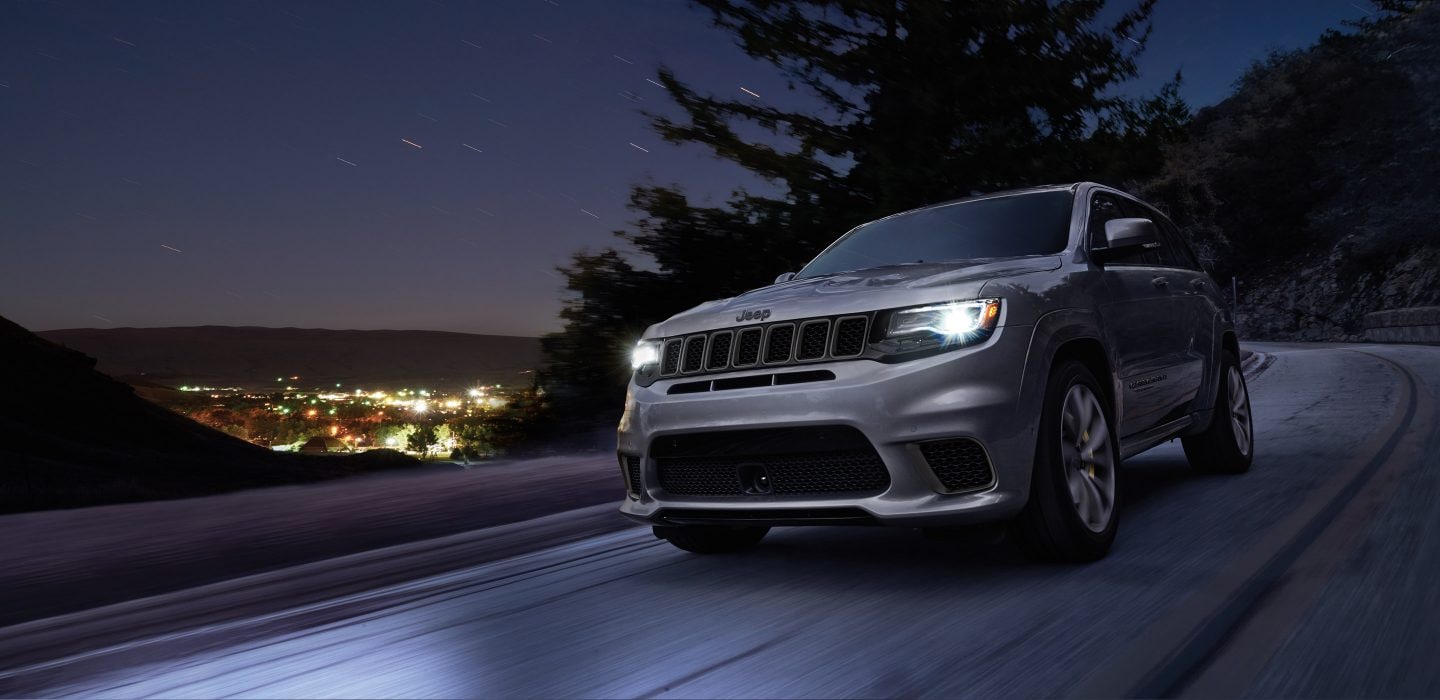 Right off the bat, the 2018 Jeep Grand Cherokee has been ranked as number 1, in the mid-size SUV category. This, when compared to Ford's 2018 Explorer, doesn't leave much room for a debatable discussion. Jeep has really knocked it out the park with their latest offering in the form of the 2018 Grand Cherokee. Well, it's already in the name, isn't it, and the stats speak loads on their own. It is a slight wonder though, that the 2018 Ford Explorer costs more than the Jeep which clearly sets the standards for this class. Don't just take our word for it though, let's take a look at some hard facts.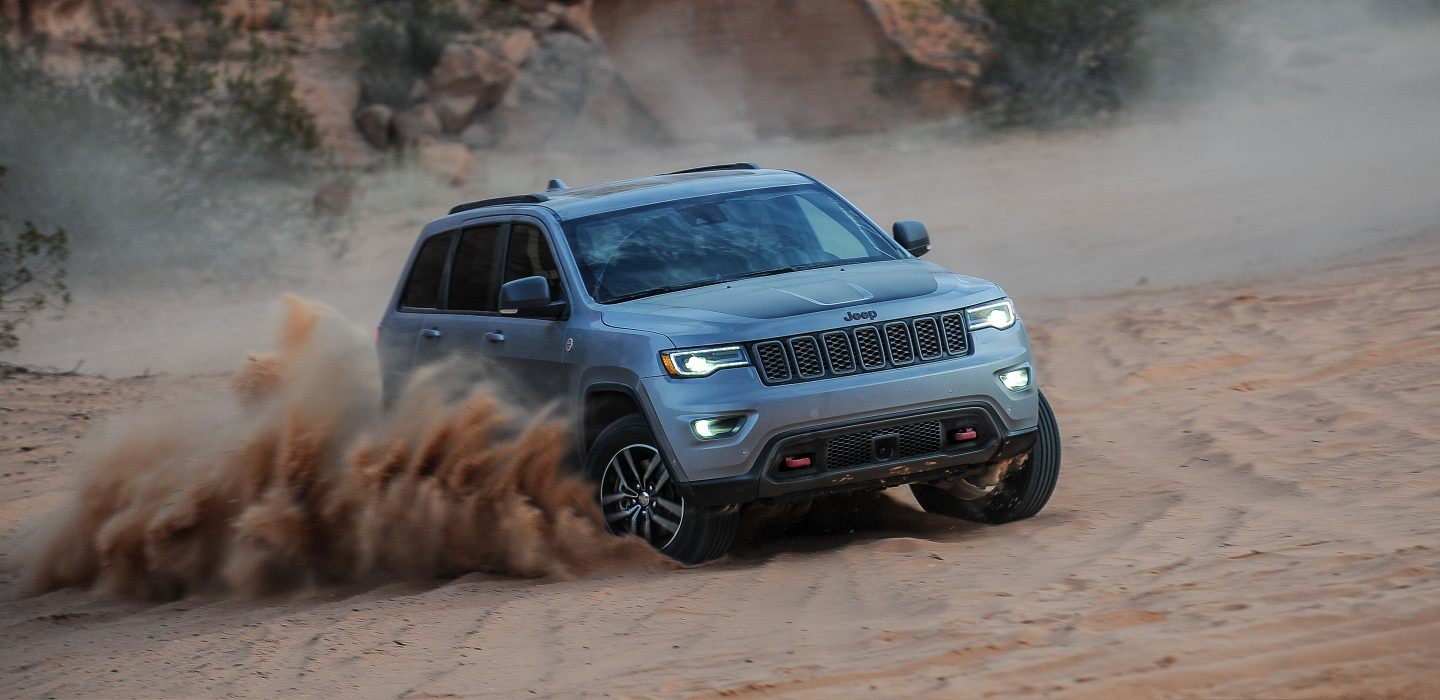 What's New?         
The latest 2018 Jeep Grand Cherokee has had one major overhaul that should definitely be taken note of. Grand Cherokee - Trackhawk, this revolutionary update is a monster to say the least. Additional enhancements come in the form of interior upgrades, new finishes and new trims. The infotainment system has also been given a major overhaul with the addition of some much welcomed, technological updates. Jeep has been looking to celebrate their 25 year anniversary and what better way than with extremely competitive pricing and brilliant vehicles. Jeep hasn't spared any expense to deliver you one of their best models yet, and it won't cost you an extra cent. Safety features have also been accounted for and so has a panoramic sunroof for you to enjoy the starry nights.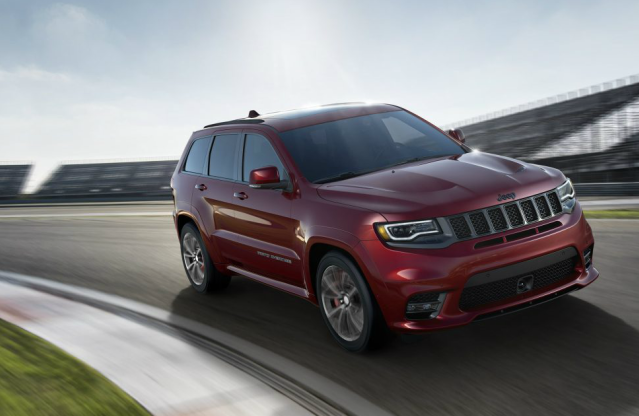 What can we say? You need to have a look at the numbers and come in for a test drive, to actually understand what a beast the 2018 Jeep Grand Cherokee really is.
Let us get the monstrous Trackhawk trim level out of the way. This behemoth of a SUV gushes out an immensely powerful 707 horsepower with the assistance of a V8, supercharged engine. You wanted performance right? How does the ability of the 2018 Grand Cherokee to reach a speed of up to 180 miles per hour sound to you? There are five different engine options to choose from, across Jeep's 7 trim levels.
The remaining engine statistics are as follows:
A V6, 3.6 liter engine with 295 horsepower

A V8, 5.7 liter, 360 horsepower engine

A unique turbodiesel, 3.0 liter engine, with 240 horsepower and 420 pounds per foot of torque

The SRT with a 6.4 liter, 475 horsepower, V8 engine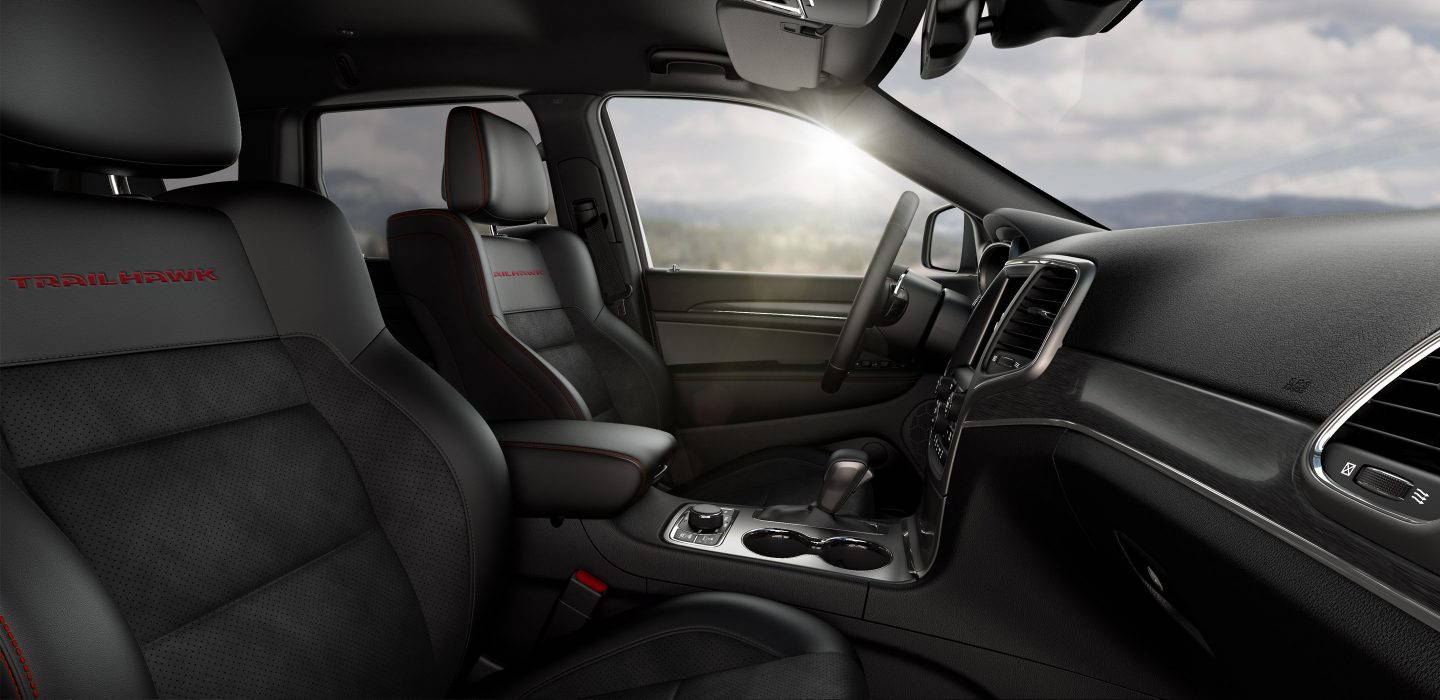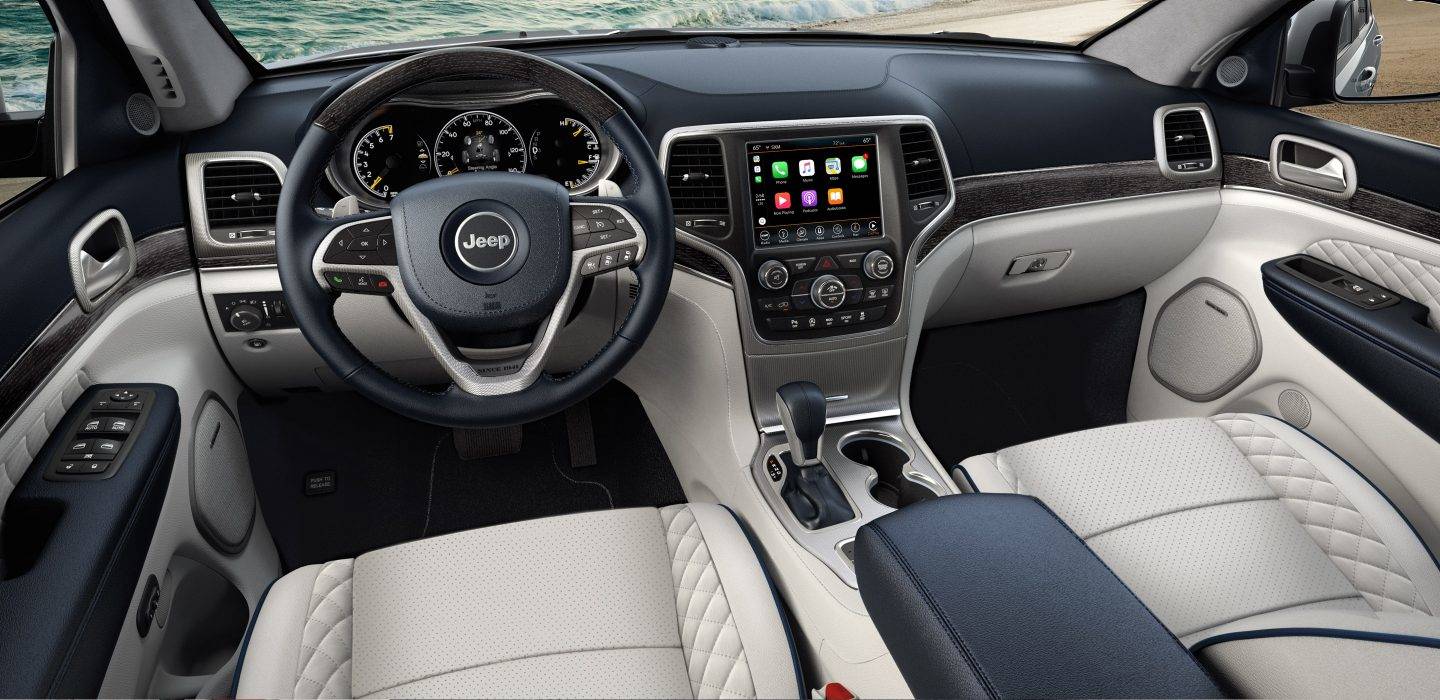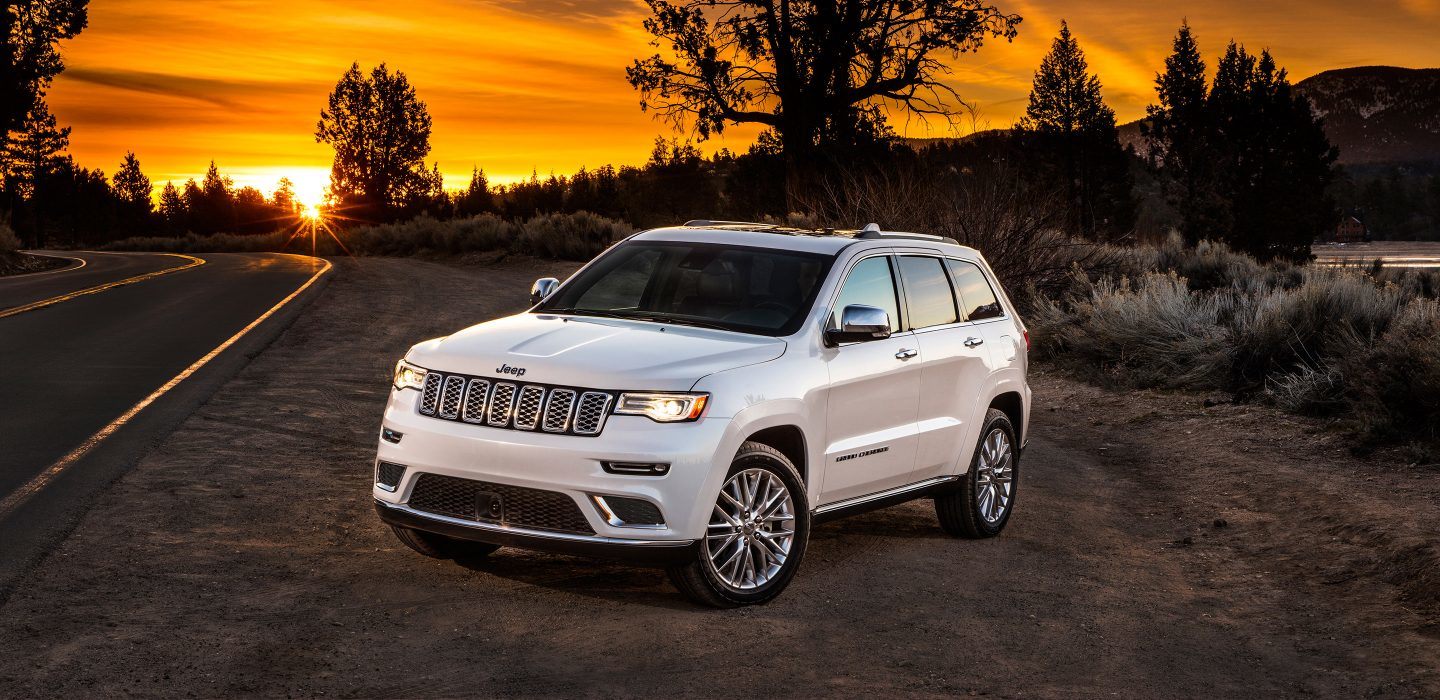 MPG
One would expect a vehicle with such a monstrous performance, and such a beastly engine, to be ridiculously high on fuel. Yet again, Jeep portrays their ingenuity with the 2018 Jeep Grand Cherokee.
The 3.6 liter V6 engine has rather impressive fuel economy ratings. This trim is rated at 19 miles per gallon in the city, and 26 miles to the gallon when tearing up the highway. It has a combined total ranking of 21 miles to the gallon. Ford's 2018 Explorer comes in at a lower 17 miles per gallon when cruising in the city and 24 miles to the gallon when driving on the open highway roads. The combined total works itself out to 20 miles to the gallon.
Interior
The 2018 Grand Jeep Cherokee seats five adults quite comfortably. The front and back rows are spacious and three passengers will enjoy ample space in the back row. The cargo room within the 2018 Grand Cherokee is impressively large as well. The second row of the 2018 Ford Explorer could do with more efficient placement and the padding has lots of room for improvement. Jeep's Grand Cherokee has a plush, luxurious interior and the Ford Explorer just isn't up to scratch. The front seats of the 2018 Cherokee are wide and well cushioned. Interior finishes of the Cherokee are upscale and distinguished.
Technology
Jeep has taken its technology to the next level and their safety features have benefitted largely from this. Rear cross alerts warn you of impending traffic induced danger and the blind spot monitoring system keeps you aware of any 'unseen' vehicles before you attempt to change lanes. Forward warnings for collision risks adds to the technological features of an already technology dense motor vehicle.
Whether you choose to finance your vehicle, or to save a few bucks and alleviate some risk by leasing the brand new 2018 Jeep Grand Cherokee, we go you covered. Sometimes your budget does not allow for a complete financed amount to be added as an expense every month. We get this. This is why we offer leasing options that will only see you having to budget for a depreciative amount. Either way, with Champion Indiana, you always win.
Why buy from us? What better place to buy your 2018 Grand Jeep Cherokee than with the largest stocked dealership in Indiana? Be one of the elite few to own one of the 53 2018 Jeep Grand Cherokee's that are in high demand. We do agree that 'talk is cheap' though, so why not pay us a visit and allow us to blow your mind?