Unleash the Demon: 2018 Dodge Challenger SRT® Demon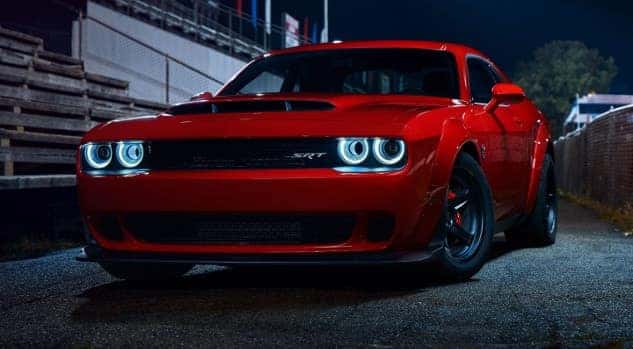 You've seen the Hellcat, but it has a more powerful friend waiting around the corner to burn rubber. The 2018 Dodge Challenger SRT® Demon is an elite performance machine set to stun the world with the incredible power contained under its hood. The only street legal racecar you can buy in Indianapolis, the SRT® Demon is already shattering records:
Highest Horsepower Of Any Production Car
Highest G-Force Of Any Production Car
Fastest Acceleration Of Any Production Car
Fastest ¼ Mile Of Any Production Car
Built for drag racing, the monstrous muscle car is powered by a supercharged 6.2L V8 that churns out 808 horsepower, and up to 840 horsepower with the Demon Crate package. An Air-Grabber™ hood scoop and Torque Reserve Launch System are there to boost performance. Every superfluous detail has been stripped to save weight and increase speed, including the rear and front passenger seats (although you will have the option to add them back in).
Want to know one of the most jaw-dropping details about the new Dodge Challenger SRT® Demon? This is the first production model ever that can attain a wheelie. That's right, with the right launch RPM and tire pressure, you can get both front tires into the air.
Only 3,000 of these models will be sold when it becomes available this fall. Price is currently estimated at $85,000. If you can't manage to snag the Demon later this year, and can't wait that long, check out our new vehicle inventory now to find new Dodge Challenger models in several trims.